Psoriasis 101
You know that feeling when your skin is red, scaly, and itchy and you can't quite figure out what's causing it? That could be psoriasis. It's a chronic skin condition that causes cells to build up quickly on the surface of your skin, creating those red, scaly patches called plaques. And let me tell you, they can be itchy, painful and even crack and bleed.
The thing is, when our immune system isn't working at its best, it can cause skin irritation and that's when psoriasis happens. Although we don't fully understand what causes psoriasis and there's no cure for it, there are ways to manage it. A combination of lifestyle changes and self-care measures can help keep psoriasis under control and manage its symptoms.
Eczema Vs. Psoriasis
Have you ever wondered what sets Psoriasis and Eczema apart?
When it comes to psoriasis, those red, raised, scaly and flaky patches are the telltale sign. It's like the skin is trying to tell you something. But with eczema, it's a bit different, the symptoms are more like dry, red, and itchy skin.
There are several potential causes of psoriasis, including:
Hormonal changes: Hormonal fluctuations, such as those that occur during pregnancy or menopause, may trigger the development of psoriasis.
Excessive drinking or smoking: Habits such as excessive alcohol consumption or smoking may increase the risk of developing psoriasis.
Allergens: Certain substances, such as chemicals, fragrances, metals, or medications, can trigger an allergic reaction that leads to the development of psoriasis.
Diet imbalances: Some research suggests that imbalances in the diet may contribute to the development of psoriasis.
Medications: Certain medications, such as beta blockers and nonsteroidal anti-inflammatory drugs (NSAIDs), may increase the risk of developing psoriasis.
Everyone is different and what causes psoriasis for one person may not be the same for another. So it's important to figure out what your triggers are in order to prevent future flare-ups.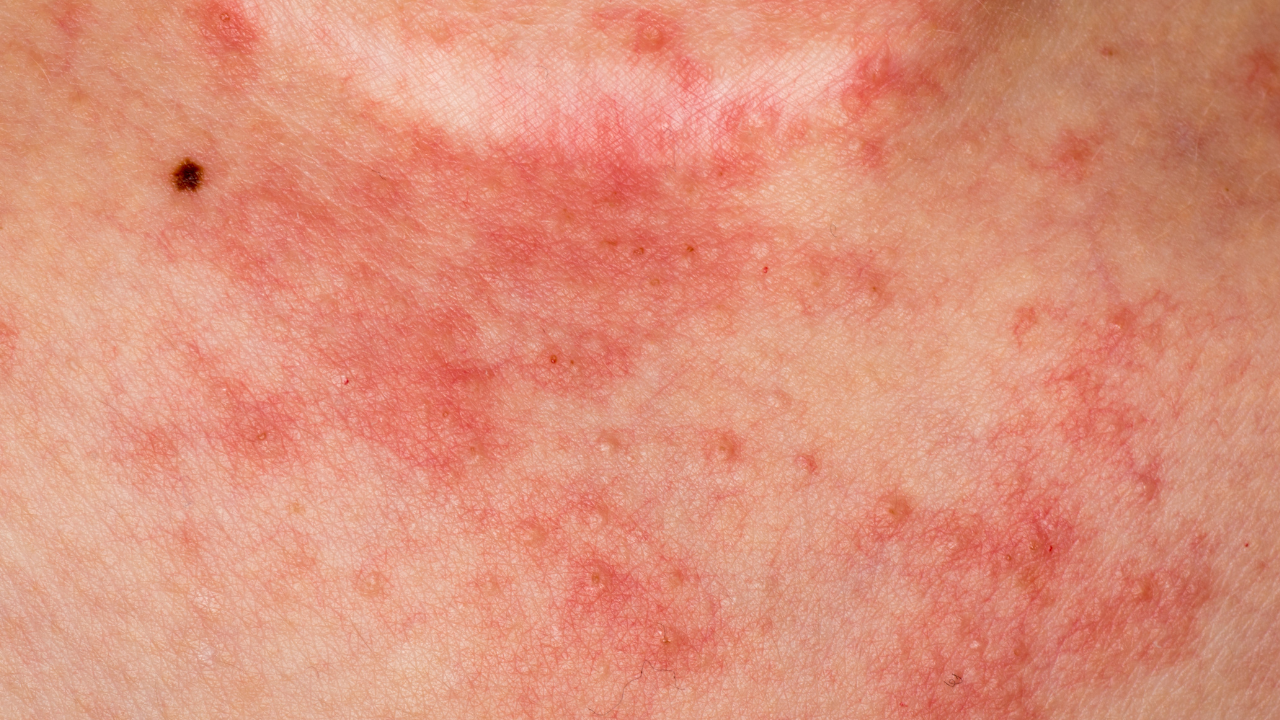 Eczema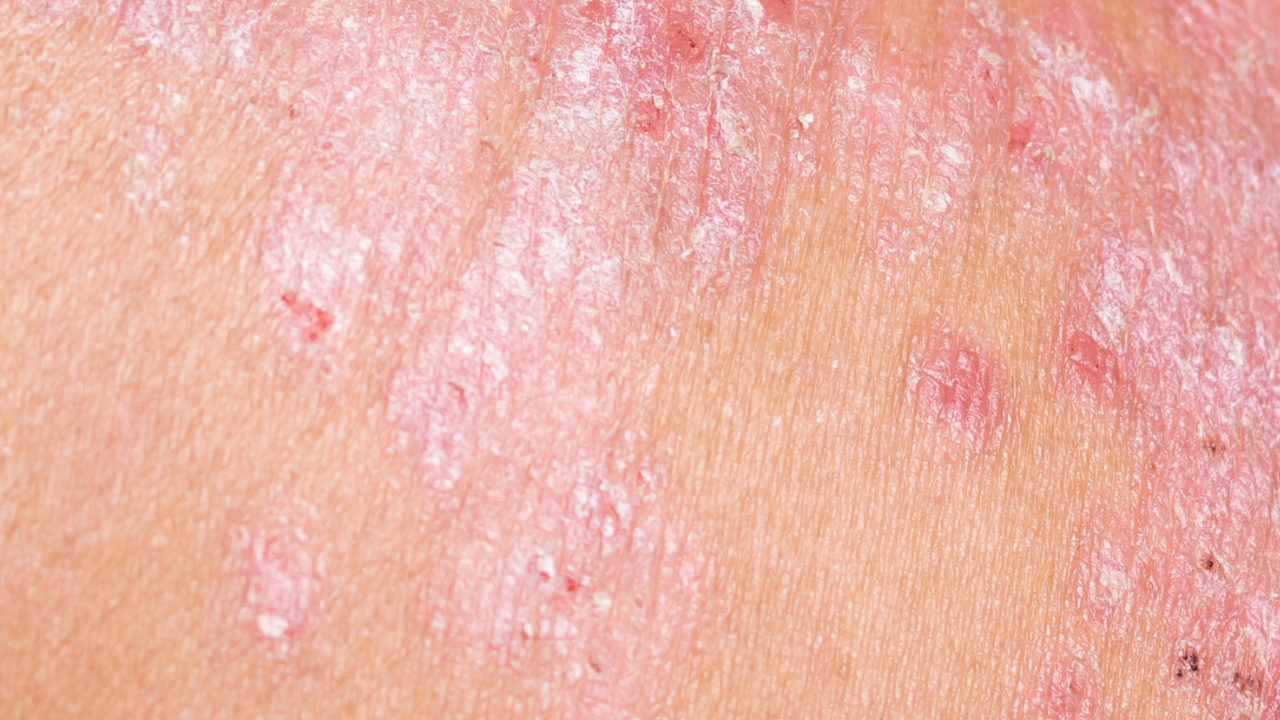 Psoriasis
How To Strengthen Your Skin's Protective Barrier
One thing that can help is taking care of your skin's protective barrier. And the good news is, it's not as hard as you might think. Here are a few things you can do to help build and strengthen that barrier:
Create a consistent skincare ritual with products that are specifically designed to protect your skin
Switch to natural and gentle soap and detergents to minimize irritation and dryness.
Watch what you eat and try to balance out your acidic and alkaline foods.
Stay hydrated by drinking plenty of water throughout the day.
Set up a bedtime skincare ritual that will help your skin repair and nourish itself while you sleep.
By doing these simple things, you'll be on your way to supporting the health and resilience of your skin's protective barrier, which can make a big difference in managing your psoriasis.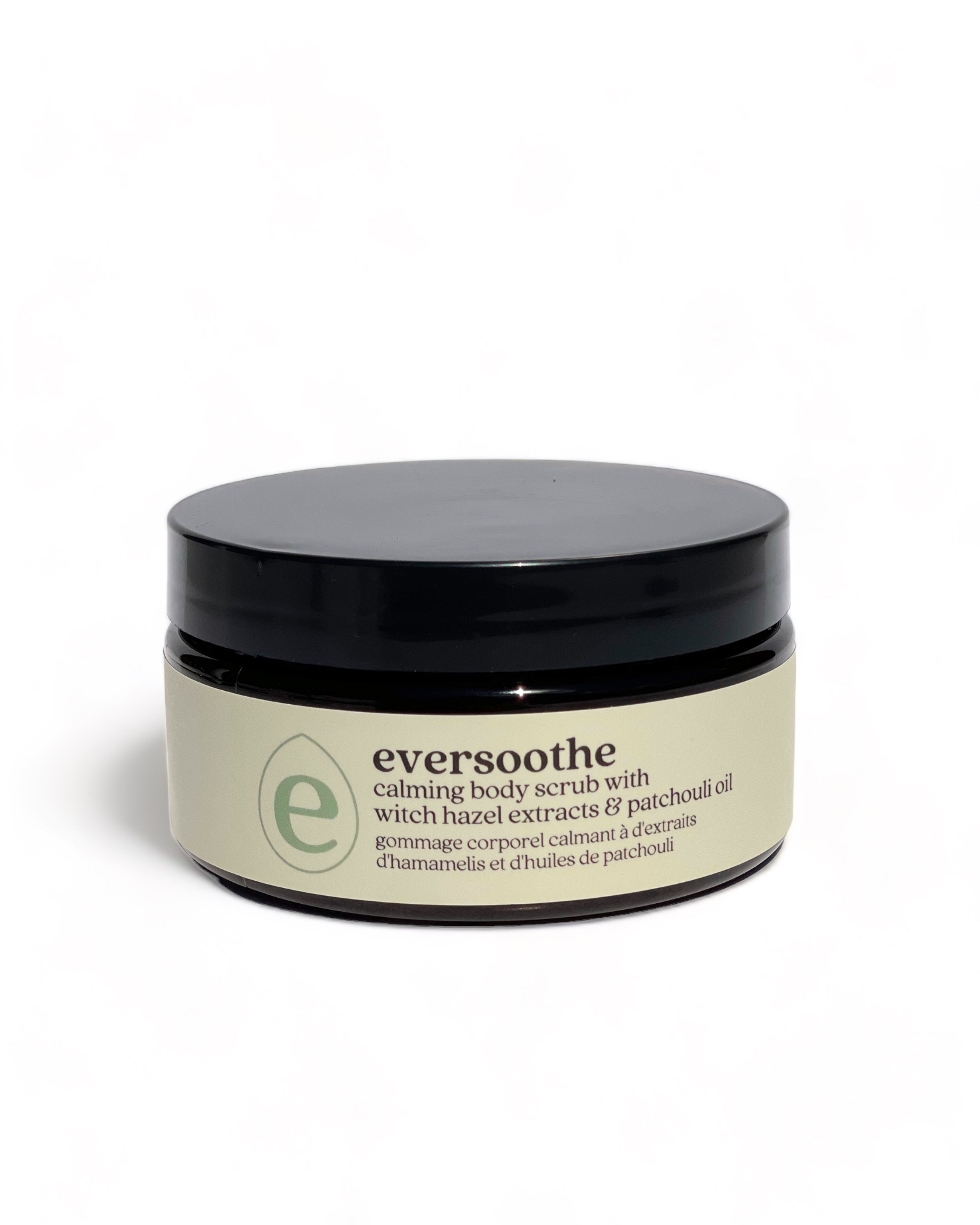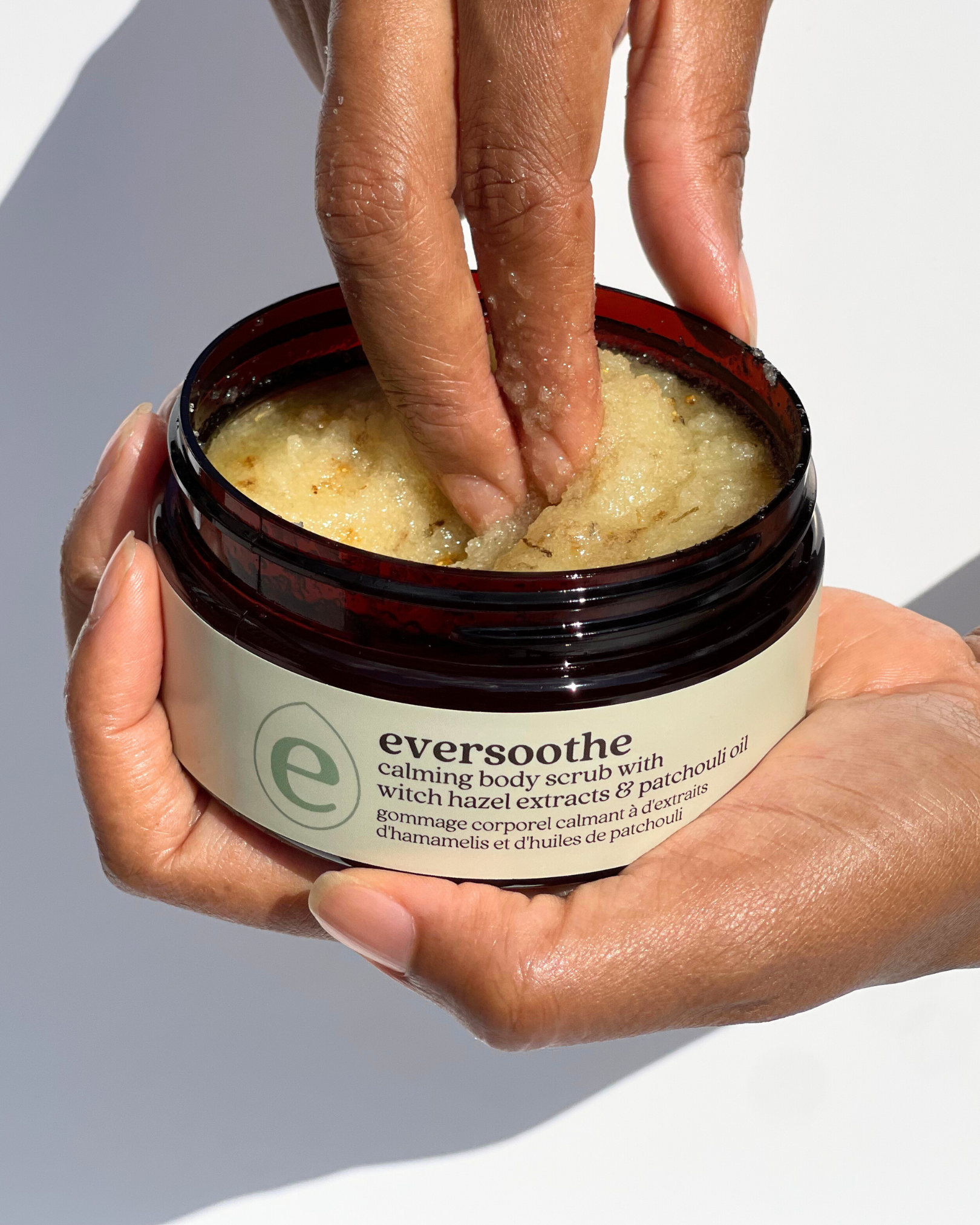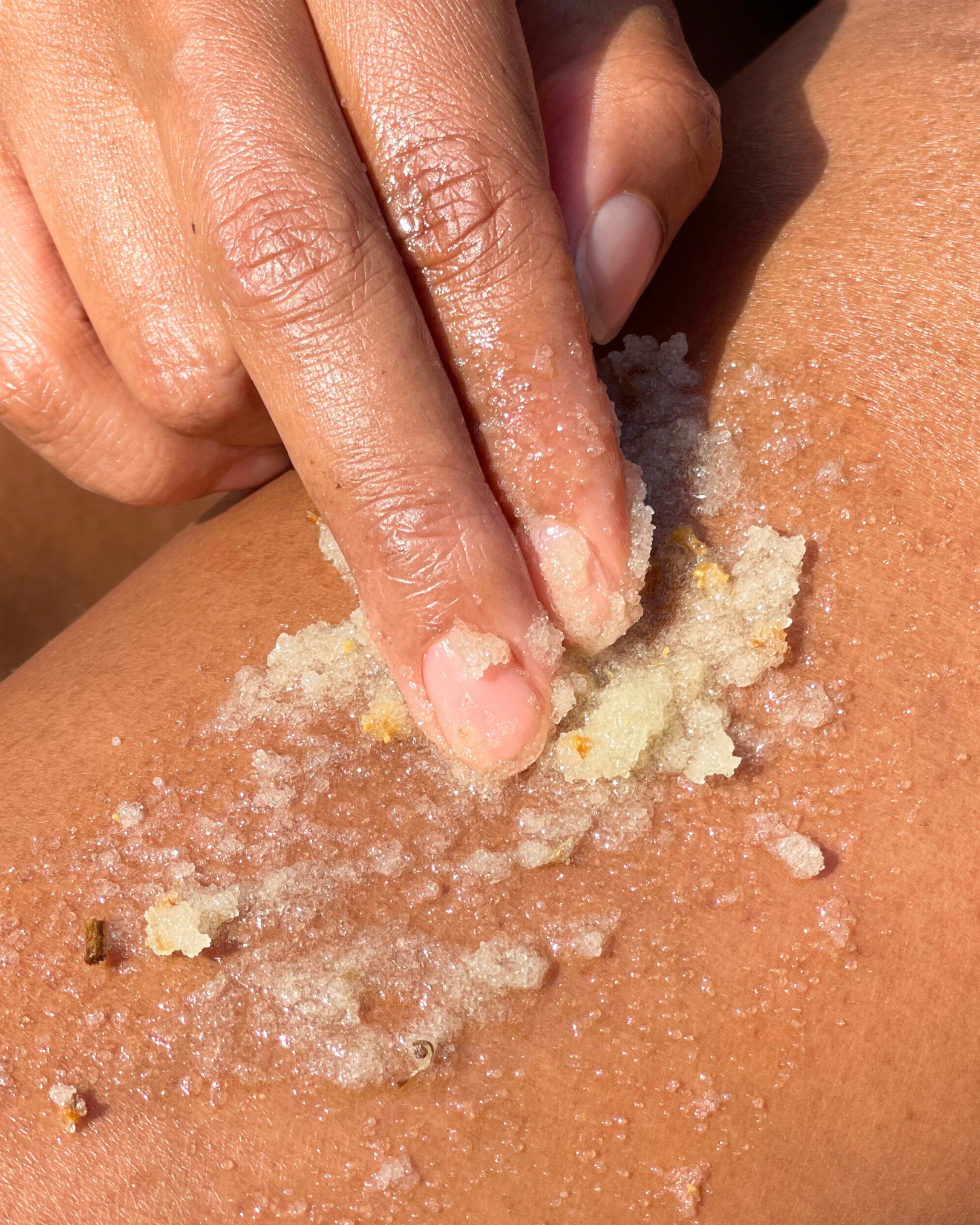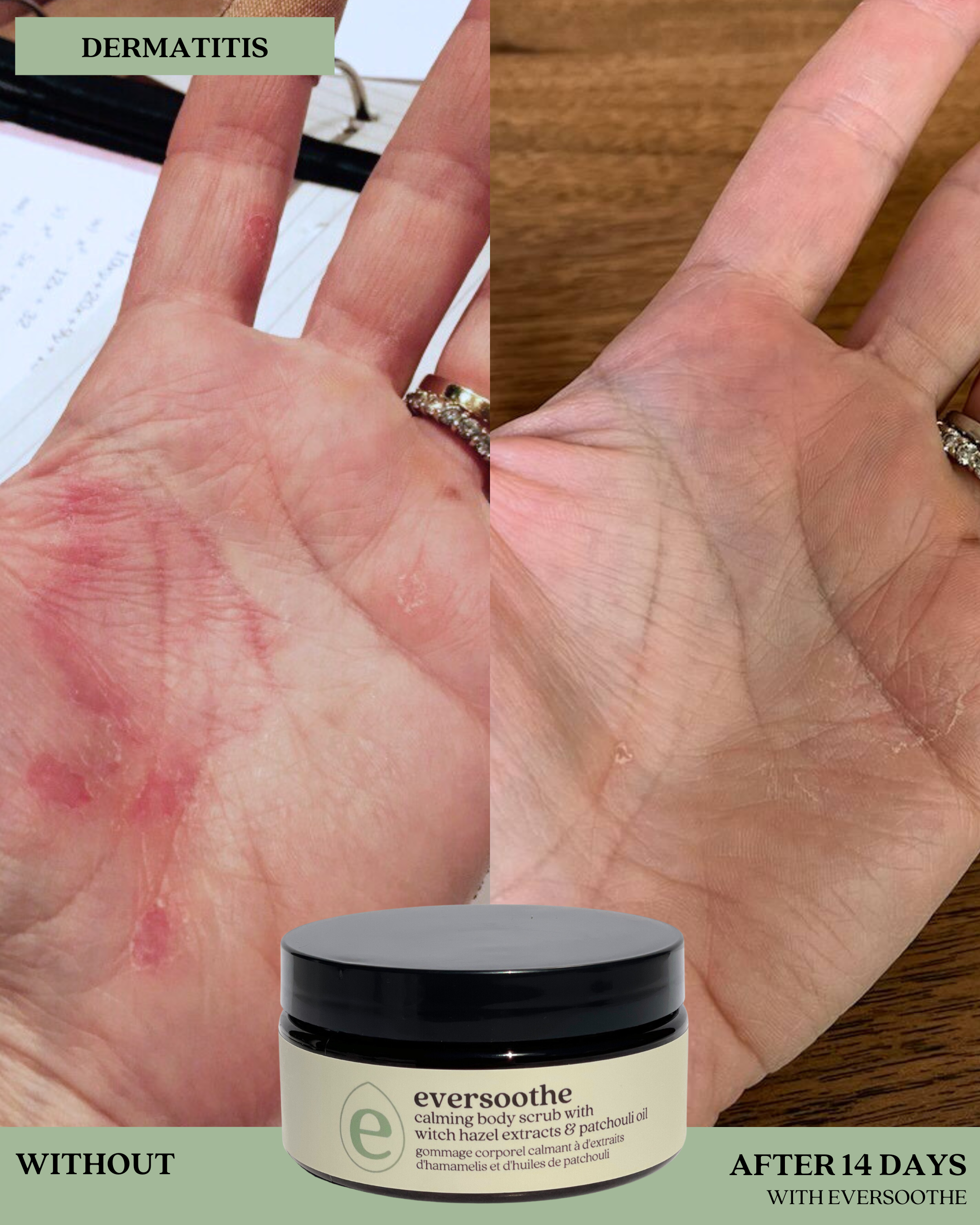 Benefits
This gentle body scrub is specially formulated with a unique blend of natural ingredients like Dead Sea Salt, Witch Hazel Extract, Chia Seed Oil, Lemon and Patchouli Essential Oils. These ingredients not only effectively exfoliate but they deeply detoxify the skin of impurities while delivering calming ingredients to soothe irritations and protect the skin's natural oils. 

Ingredients
Maris Sal, Prunus Armeniaca (Apricot) Kernel Oil, Butyrospermum Parkii (Shea) Butter, Stearic Acid, Salvia Hispanica (Chia) Seed Oil, Pogostemon Cablin Leaf Oil, Ricinus Communis (Castor) Seed Oil, Hamamelis Virginiana (Witch Hazel) Water, Polawax, Tocopherol, Cymbopogon Flexuosus, Apple Cider Vinegar, Citrus Medica Limonum, Sambucus Nigra Flower, Propanediol, Melaleuca Alternifolia, Zingiber Officinale (Ginger) Root Oil, Glycerin, Citrus Grandis (Grapefruit) Extract, Mentha Arvensis, Hamamelis Virginiana (Witch Hazel) Extract
---
---